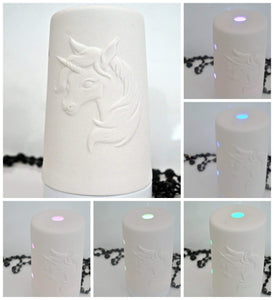 A diffuser/vapouriser, ioniser, air purifier, humidifier & night light all in one. 
A gorgeous matte white, ceramic ultrasonic diffuser featuring a unicorn head that would make any little girl happy.
5-in-1 multifunction
operates up to 8 hours
intermittent or continuous mist function
100ml water capacity
auto switch off
product size 15cmH x 8.5cmW
colour changing LED light
Comes with a free Tilley 15ml bottle of blended oil, please choose your fragrance at time of selection of Diffuser product.