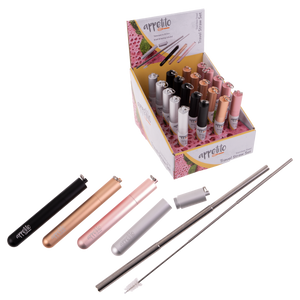 4 Colours to choose from:
Black, Rose Gold, Champagne & Silver
1 foldable telescopic stainless steel straw and 1 foldable telescopic brush in a travel case with a screw lid and key ring, so easy to attach to your keys, school bag, back pack etc
Telescopic to 23.5cm.
 Brush and key ring included.
Please note:
Because every screen/monitor is different, the actual colour of the product can vary from the image.