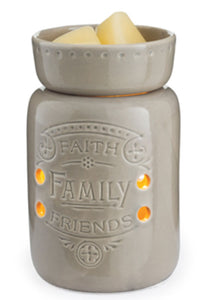 A mushroom coloured glaze and reminder of what's most important make this warmer endearing to all.
Midsize Illumination Fragrance Warmers are slightly smaller than the Illumination Warmers.They warm wax melts in the dish, releasing their Fragrance.
The soft glow of the halogen bulb creates the ambiance and fragrance of a lit candle, without a flame.
Top dish is removable to allow access to globe.
On/off switch in cord.
Approximate size - 16cm x 13cm
Replacement Globe –NP7 (can be purchased from our store)
Comes with a free 6pk of Soy Wax Melts, please choose your fragrance.