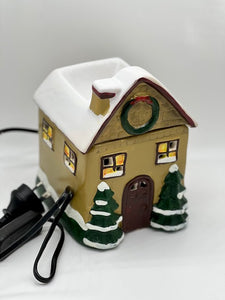 This delightful Christmas Cottage is sure to make anyone's festive season an absolute delight.  With light shining through the cottage it takes you away to another place full of Christmas cheer.
Illumination Fragrance Warmers use a halogen bulb to warm wax melts in the dish, releasing their fragrance.
The soft glow of the bulb creates the ambiance and fragrance of a lit candle, without a flame.
Approximate size – 16.5cm x 11.5cm
Replacement Globe – NP5 (can be purchased from our store)
Comes with a free 6pk of Soy Wax Melts, please choose your fragrance.